Principal's Desk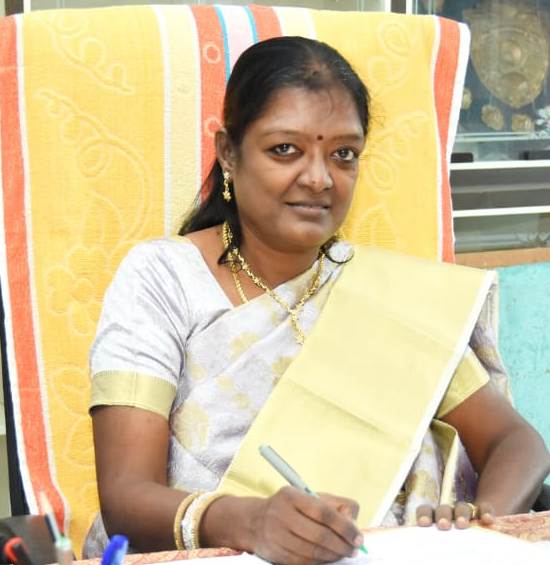 Dr.B.PRAMILA,.M.A.,M.Phil.,Ph.D.,PGDCA., "The institution, since its establishment, has been dedicated to empowering women and girls in the economically, socially and culturally backward parts of the district. This area is known for the early marriages of girls who have no or very little significance in their families. Their education is very difficult. In spite of all these challenges, the institution works tirelesslly to empower girls and women through higher education."
It offers 12 UG,8 PG and 4 M.Phil., courses with dedicated faculty whose main purpose is to educate girls, develop their skills in various fields, create awareness of their social responsibilities,environmental protection,moral awareness,health awareness,etc. The institution also helps students' employability by means of training in various skills,provided by qualified professionals through placement cells,which in turn allows them to gain financial stability.
Our motto is to empower women through education and to uplift the downtrodden and rural women of this remote area.
We thank all the good souls who have contributed to the development of this institution over the years.
2023-24 UG Admission Rank List

Vision & Mission
Vision
Transforming the underprivileged rural girls into empowered women to serve the society
Mission
To hone rural girls as
Educated
Self confident
Skilled
Employable and
Self reliant
Core values
Supporting the vision and mission of the college, Focusing on the activities that bring out the latent talents of the students,Decentralizing the decision making process,Inculcating the moral/ethical values to make them responsible citizens ,Sensitizing the young minds towards environmental protection and cleanliness
CLICK HERE to Contact for any complaints regarding ragging
Anti ragging cell takes care of ragging free campus. On the first day of college reopening, first year students are informed about the cell and even senior students are also been educated to keep a cordial relationship with their juniors.Our college campus is completely free from ragging. The anti ragging committee includes the Principal, the co-ordinator, all the HOD's of major department and one student representative from each class. The Government rules and regulations and the UGC Guidelines are informed to the students in the assembly and also an undertaking is obtained from the First year students and the parents every year.